The Library contains articles to copy & share, videos to forward, as well as worksheets that will help you guide you
through the first 14 days of a real estate transaction.
Renovation Lending has been very popular this year
due to the number of bank owned properties
and foreclosure sales on the market.
Click here to Link to a "What to Do" checklist.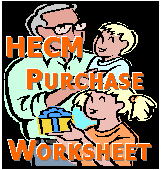 Click here to Link directly to a fantastic work sheet
to help you with the information and documents you will need
for the
NEW Reverse Mortgage for Purchase product.

For buyers age 62 and older.
Networking With Joe & His Contacts
Click here to link to Joe's Twitter page.
Join & send Joe a "tweet" @
www.twitter.com/gojoechild
Link directly to Joe's Facebook Wall.
Join & stay in touch with Joe @
www.facebook.com/josephchild1